Hello The Camp is a free monthly newsletter about that thing we all wish we heard more about all year long: FUR TRADE DAYS!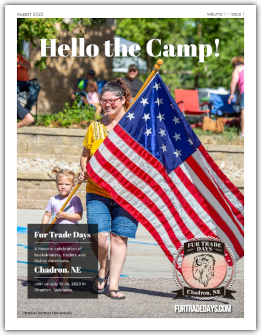 Hello The Camp covers the history of the event itself, 1976-Present. Remember that beard and mustache competition? Had your 30th High School Reunion? Tossed the furthest buffalo chip in '08? Hello The Camp wants to remember, immortalize, and eternally glorify all that has gone into Fur Trade Days over the years.
This inaugural issue will mainly recap some of the great events we had in 2022. Future issues will also cover the historical days of the Fur Trade. From James Bordeaux, to Louis B. Chartran, to the Native Americans who first populated this region, Hello The Camp will explore these histories in many ways.
Get the Newsletter
You can get Hello The Camp from this landing page around the 15th of each month.
We'll offer a downloadable, printable, PDF here: Click me for PDF!
And also a dynamic reader viewable online here: Click for Reader View
At this time, the best view for mobile is the PDF, but we are working on a mobile optimized version for the future.
A New Way to Support Fur Trade Days
Along with the debut of Hello The Camp, Fur Trade Days is also releasing a new way to support everyone's favorite annual festival through Ko-Fi.com
You can check out the Fur Trade Days Ko-Fi page.
Follow Fur Trade Days through Ko-Fi for free and you'll get an email each month when the newsletter is published.
If you're interested in supporting Fur Trade Days financially, or in getting a print copy of Hello The Camp each month, there are subscription tiers starting at $5 a month for you.